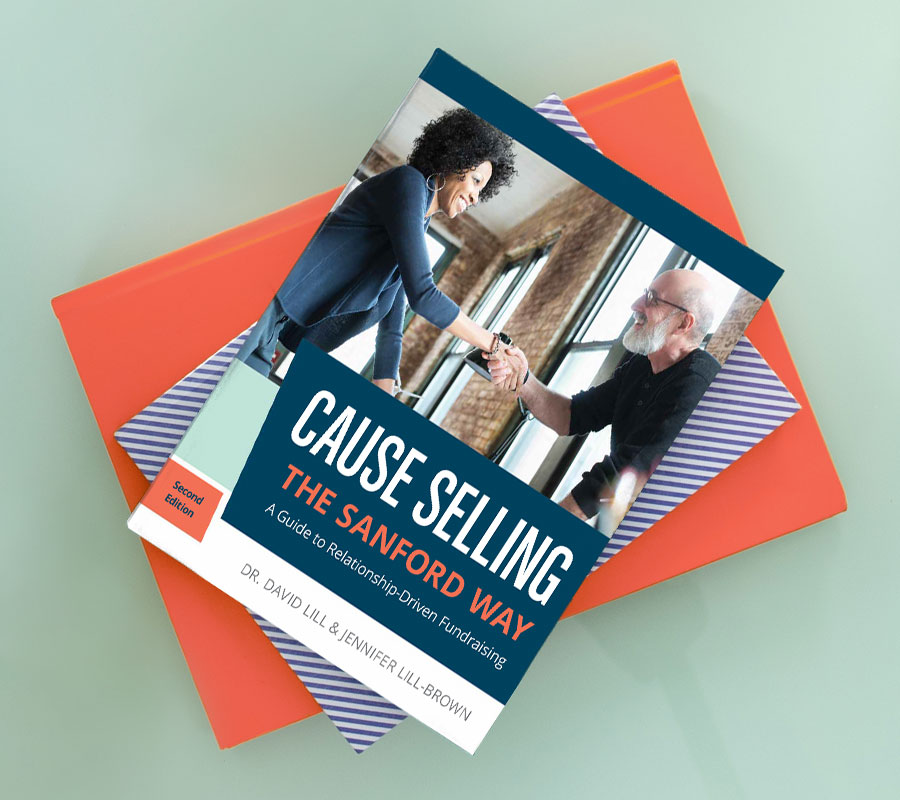 Coming Soon!
Be an Agent of Change.
Change the Status Quo.
Learn how to develop and nurture donor relationships to advance your cause in today's giving landscape with Cause Selling the Sanford Way: A Guide to Relationship-Driven Fundraising.
Sign up to get an exclusive preview of the book as soon as it's available.
Get Exclusive Preview
About the Book
Philanthropy is about advancing your organization's cause and advancing the goals of the donor. With Cause Selling the Sanford Way: A Guide to Relationship-Driven Fundraising, both are possible.
People, preferences, and politics have altered the giving landscape. If you truly want to be an agent of change, you have to change the status quo.
Cause Selling the Sanford Way: A Guide to Relationship-Driven Fundraising will help you focus on what really matters in today's climate: the donor.
Fundraising begins with a great mission. It is driven by a compelling message. It is sustained through meaningful relationships.
Cause Selling the Sanford Way: A Guide to Relationship-Driven Fundraising.
Key Takeaways
Cause Selling the Sanford Way: A Guide to Relationship-Driven Fundraising has been designed to inspire you and give you confidence by providing the training you need to view your fundraising career with the passion and conviction it takes to succeed.
Discover what future-focused fundraisers do that sets them apart
Gain tools for forming lasting relationships with donors and influencers of change
Understand that the word "sell" is a part of everyone's life, regardless of profession  
Identify the eight steps of the Cause Selling Cycle, from prospecting to stewardship
WHAT IS CAUSE SELLING?
Cause Selling is a relationship-centered, collaborative approach to professional fundraising. It is a model for fundraising that integrates valuable systems from the for-profit realm, with an intense focus on
building long-term connections that benefit both the donor and the organization. The eight-step cycle gives you the confidence you need to:
Seek out donors who have a need, interest, and passion for your cause
Show or demonstrate to donors how your cause fulfills their need
Inspire donors to support and donate to your cause
What People Are Saying
"Thanks to Denny Sanford's vision and the incredible skill of Dr. David Lill and Jennifer Lill-Brown, fundraisers and soon-to-be development officers now have a comprehensive guidebook on all phases of donor-centered relationship building and management. I look forward to adding this extraordinary resource to our professional development program ASAP."
Mark A. Stuart, CFRE President, Foundation for San Diego Zoo Global, Chief Development and Membership Officer, San Diego Zoo Global
"The Cause Selling model promotes longterm, mutually beneficial relationships with like-minded donors. It also provides the fundraising skills and tools necessary to build professional confidence and equip fundraisers with the expertise, passion, and conviction it takes to raise funds successfully. Cause Selling shows fundraisers how to develop and sustain donor relationships by persuasively advocating the nonprofit's cause in a manner that connects with the donor's passions."
Anthony D. Wilbon, Ph.D., PMP Associate Dean of Academic Affairs and Administration, Associate Professor of Information Systems and Supply Chain Management, School of Business at Howard University
"We recognize that nonprofits have outstanding and compelling causes but fail to realize their full potential for lack of resources, in particular, tapping into the wealth and generosity of donors. Developing the right relationship donors and stewarding them to increase their gifts and engagement is the secret sauce you can learn in Cause Selling The Sanford Way."
Oakland Business Review
About Sanford Institute of Philanthropy
The Sanford Institute of Philanthropy offers educational and training programs to help nonprofit fundraisers significantly increase their capabilities and their positive impacts on society. The first Sanford Institute of Philanthropy launched at National University in 2014 with the development of proven contemporary curricula presented by recognized nonprofit leaders, faculty, and renowned philanthropists. The University is coordinating with institutions around the country to launch affiliate institutes serving regions throughout the country.
Get your Exclusive Preview